Delegates and observers meet in Vancouver for APPA 48 Forum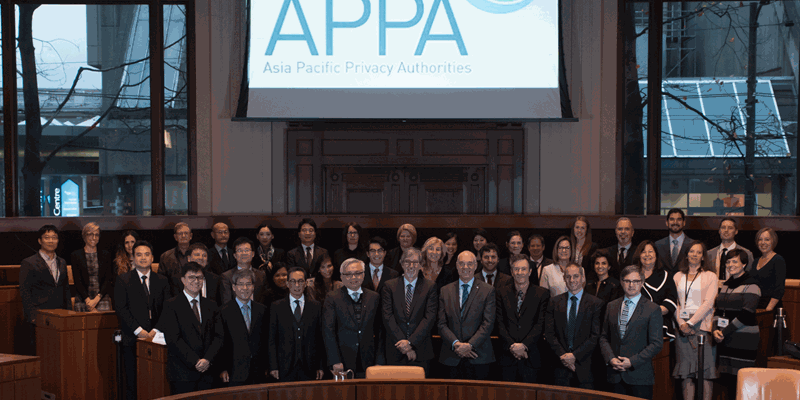 A few weeks ago, my office and the Office of the Privacy Commissioner of Canada (OPC-Canada) co-hosted the 48th Asia Pacific Privacy Authorities (APPA) Forum in Vancouver. From November 15-17, APPA officials from 14 member jurisdictions and invited guests shared insights and perspectives, discussed global privacy trends, exchanged experiences, and looked for opportunities for joint regulatory guidance and enforcement activities across the Asia Pacific Region.
The first day began with a screening of four videos that featured past OPC funding recipients, followed by a panel discussion. One project, a documentary entitled Data Mining the Deceased: Ancestry and the Business of Family, explored the industry behind the growth of genealogy and its potential impact on privacy. This film was produced by Julia Creet, a Professor of English at York University in Toronto, and partially funded by the OPC Contribution Program.
November 16 featured four panels. The first, which I had the pleasure to moderate, was comprised of speakers from four of the world's largest data technology companies – Apple, Facebook, Google, and Microsoft. The panelists shared experiences about how their respective organizations facilitate global privacy compliance and enhance consumer trust. The second panel considered how privacy authorities can partner with small and medium enterprises to meet privacy and business goals. The third panel followed-up on the OPC-Canada's recently completed consultations and Report on Consent. The final panel offered a practical discussion on how data protection authorities can support and partner with outside research to inform and complement their regulatory and enforcement work.
November 17 was an APPA members-only session. It began with the presentation of members' jurisdiction reports and their common themes, including compliance and enforcement; cross-border data flows; law reform; outreach and education; and business innovation. APPA members shared global privacy updates and developments, and heard reports from the APPA Governance Committee, Communications Working Group, Technology Working Group, and the Working Group on Comparative Privacy Statistics. The day concluded with the announcement that the United States Federal Trade Commission will host the 49th APPA Forum in 2018.
The Forum, which was organized with the support of the five-member APPA Governance Committee, was attended by 14 APPA member authorities. The APPA forums offer an important opportunity for APPA members to collaborate and build partnership in support of privacy regulation in the global digital age.