Privacy tips for seniors: OIPC and Seniors Advocate brochure highlights personal information pitfalls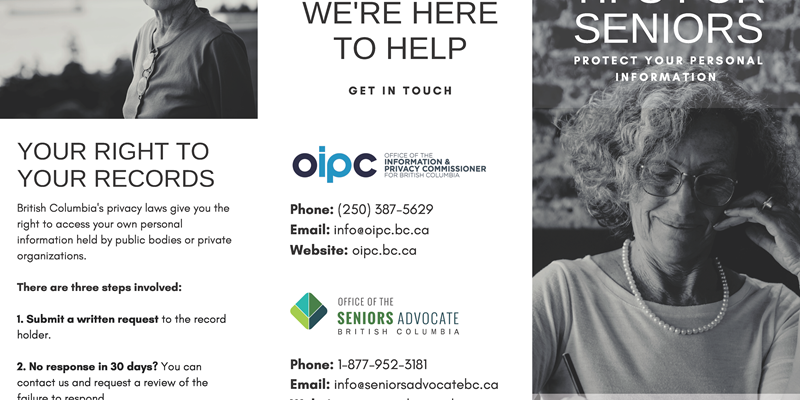 The COVID-19 pandemic has dramatically impacted the personal and professional lives of millions of British Columbians. And no population has been more profoundly affected than our seniors.
It is an unfortunate reality that as seniors focus on their health amid the pandemic, con artists and scammers are looking to exploit their personal information and profit from these challenging times.
According to the Canadian Anti-Fraud Centre, more than 18,000 Canadians reported fraud in the first four months of 2020 – nearly half of the total number of cases for 2019. Canadians have lost $22.6 million to fraud.
Many of these scams target seniors directly. As Laura Tamblyn-Watts, the CEO of National Seniors' Advocacy Organization CanAge said recently, the virus, combined with scamming attempts, represent "the perfect storm of targeting our vulnerable people."
Recognizing the need to raise awareness among seniors around common threats to their personal information, the Office of the Information and Privacy Commissioner and the Seniors Advocate for British Columbia are pleased to share our brochure, "Seniors privacy tips: Protect your personal information".
The brochure offers straightforward tips on how seniors can protect their personal information, prevent identity theft, and stay safe online, as well as how to access their own records held by private bodies.
Download a printable version of the brochure here.
The brochure is released today in recognition of World Elder Abuse Awareness Day and the start of Privacy Awareness Week 2020 (more on PAW here).